Parable of the Sower
When global climate change and economic crises lead to social chaos in the early 2020s, California becomes full of dangers, from pervasive water shortage to masses of vagabonds who will do anything to live to see another day. Fifteen-year-old Lauren Olamina lives inside a gated community with her preacher father, family, and neighbors, sheltered from the surrounding anarchy.
Precocious and clear-eyed, Lauren must make her voice heard in order to protect her loved ones from the imminent disasters her small community stubbornly ignores. But what begins as a fight for survival soon leads to something much more: the birth of a new faith…and a startling vision of human destiny. A beautiful, faithful graphic novel adaptation, created by Damian Duffy and John Jennings, is also available.
This book is offered as part of Parable Path Maine, a framework for community organizing and artistic engagement based on Octavia E. Butler's Parable of the Sower. This initiative is led by multi-hyphenate musician Toshi Reagon, Bowdoin College's Joseph McKeen 2022-23 Visiting Fellow, and is supported by Maine Humanities Council, Indigo Arts Alliance and Bowdoin College.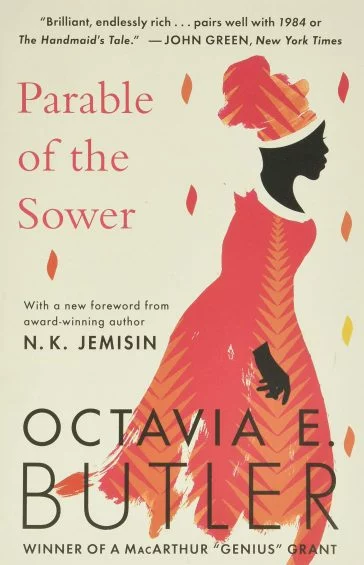 Interview
with Daniel Minter
A gripping tale of survival and a poignant account of growing up sane in a disintegrating world."

—new York Times Book Review
Themes this
book addresses
Climate Crisis
Socio-economic Crisis
Race
Power