THe SECRET POOL
As home of the Harriet P. Henry Center for the Book, the Maine Humanities Council has selected Maine author Kimberly Ridley's and Maine artist Rebekah Raye's vibrant picture book The Secret Pool as Maine's pick for the 2023 Library of Congress National Book Festival on August 12 in Washington, D.C.
A Tilbury House Nature Book, The Secret Pool introduces readers to the wonders right underfoot as the voice of a vernal pool shares its secrets through the seasons, and sidebars provide fun facts on its inhabitants and the crucial role these small, often overlooked wetlands play in maintaining a healthy environment.
You might walk right by a vernal pool and not notice it. Often mistaken for mere puddles in the woods, vernal pools are the source of life for many interesting creatures. These secret pools form every year when low places on the forest floor fill up with rain and melted snow. They soon become home to hatching wood frogs, spotted salamanders, and fairy shrimp. Even in late summer and fall, when many vernal pools have shrunk to mud holes, creatures such as turtles and snakes rely on them for shelter and food.
Maine's adult selection for the 2023 National Book Festival is Lungfish by Meghan Gilliss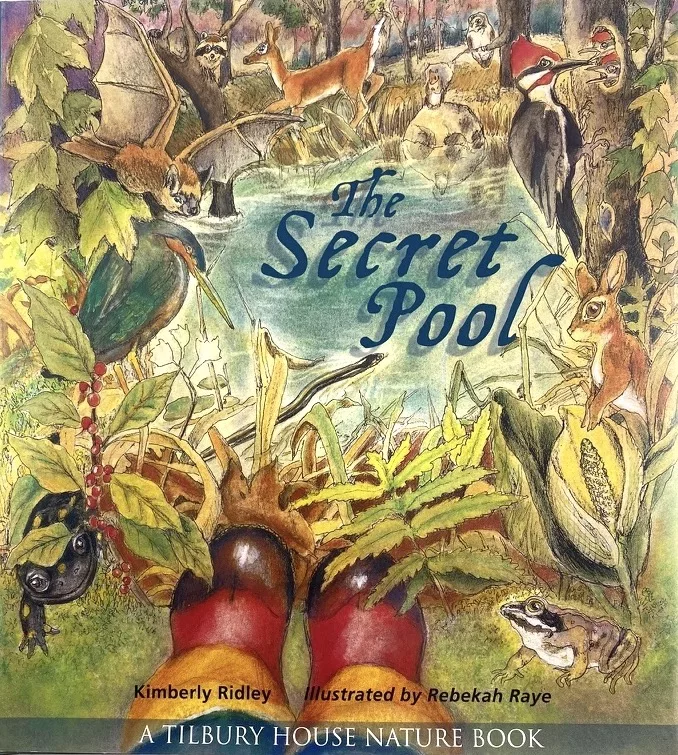 Everyone Has A Story
Maine's selections for the 2023 National Book Festival
Resources
Fun and engaging classroom resources, educational materials, and all things Vernal Pool
About the author & ArTIST
Kimberly Ridley is an award-winning author of nonfiction books for children. Her joy is sharing her love of nature and writing with children through her books and school visits. Kimberly's picture books, The Secret Pool (Kirkus starred review) and The Secret Bay, have received honors including Riverby Awards from the John Burroughs Association for "outstanding natural history books for young people." Her newest book is Extreme Survivors: Animals That Time Forgot. A former magazine editor, Kimberly has written for publications including The Boston Globe, the Christian Science Monitor, and Downeast Magazine. She holds an MS in Science Journalism.
Rebekah Raye is an artist beloved for her bird and animal paintings and sculpture, but lately she has been spending a lot of time looking for spotted salamanders and frogs and fairy shrimp on nighttime outings with Kim Ridley. Rebekah's warm, expressive work is derived from her affinity with the natural world around her studio and home in East Blue Hill, Maine. She illustrated Thanks to the Animals by Allen Sockabasin and is the author and illustrator of The Very Best Bed and Bear-ly There. Rebekah shares her skills and her love of art in workshops for adults and children and makes frequent school visits.
EVENTS
No Events scheduled for National Book Fesitval