Blue
A History of the Color as Deep as the Sea and as Wide as the Sky
As home of the Harriet P. Henry Center for the Book, the Maine Humanities Council has selected Nana Ekua Brew-Hammond's and Daniel Minter's Blue to feature at the 22nd National Book Festival.
Discover a world of creativity and tradition in this fascinating picture book that explores the history and cultural significance of the color blue. From a critically acclaimed author and an award-winning illustrator comes a vivid, gorgeous book for readers of all ages.
Maine's adult selection for the 22nd National Book Festival is Sigh, Gone by Phuc Tran.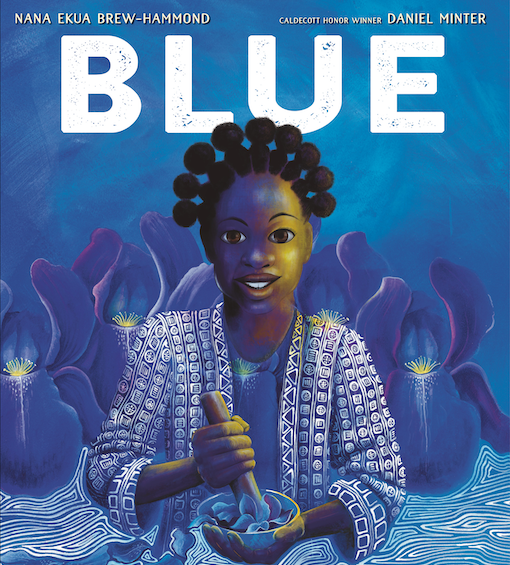 Interview
with Daniel Minter
"A vibrant historical picture book that will leave readers curious about other colors."

—Publishers Weekly
About the authors
Nana Ekua Brew-Hammond is the author of the children's picture book BLUE: A History of the Color as Deep as the Sea and as Wide as the Sky, illustrated by Caldecott Honor Artist Daniel Minter, and the young adult novel Powder Necklace. Her short fiction for adult readers is included in the anthologies Accra Noir edited by Nana-Ama Danquah, Africa39 edited by Ellah Wakatama Allfrey, New Daughters of Africa edited by Margaret Busby, and Woman's Work edited by Michelle Sewell, among others.
Daniel Minter is a Maine artist who has illustrated over a dozen children's books, including Going Down Home with Daddy which won a 2020 Caldecott Honor and Ellen's Broom which won a Coretta Scott King Illustration Honor; Seven Spools of Thread: A Kwanzaa Story, winner of a Best Book Award from the Oppenheim Toy Portfolio; and The Riches of Oseola McCarty, named an Honor Book by the Carter G. Woodson Awards.
Upcoming Events
No Events scheduled for National Book Festival