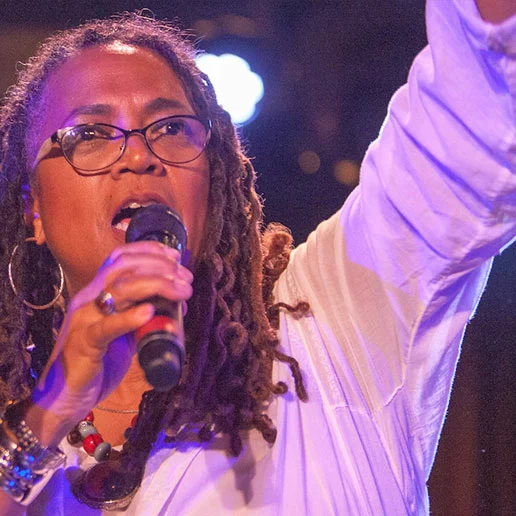 Associate Professor of Africana Studies
she/her
Judith Casselberry is Associate Professor of Africana Studies at Bowdoin College. Her teaching and research focuses on Black American religious and cultural studies, social movements, and Black intellectual thought with particular attention to gender and liberation.
She is author of The Labor of Faith: Gender and Power in Black Apostolic Pentecostalism (Duke University Press, 2017) and co-editor of Spirit on the Move: Black Women and Pentecostalism in Africa and the Diaspora (Religious Cultures of African and African Diaspora People series with Duke University Press, 2019.
Talks
Afrofuturism in 19th century Black Spirituals
What can 19th century Black spirituals teach us about Afrofuturism? What if we fully embraced the insistence of the spirituals—insisting on humanity, insisting on a divine ethical and moral vision?
Nineteenth century Black spirituals laid the foundations for Afrofuturism as Black people brought God and the battles and heroes of the Old Testament into their history while projecting liberation in the now and future. Through the spirituals Black people insisted on the value of their ways of knowing and ways of expressing life, death, sorrow, and joy.
---
Black Women's Freedom Practices: 17th to 21st Century
This talk centers four Black women of consequence who affected the American political landscape between the 17th and 21th centuries—Elizabeth Key, Ida B. Wells-Barnett, Fannie Lou Hamer, and Stacy Abrams.
Their experiences highlight how power dynamics of race, gender, sexuality, status, and religion converge in different moments and are shaped by social, political, and historical contexts. At the same time, each woman shows how Black women's activism has had a profound impact on America's self-understanding—in social, legal, and political realms.
---
Intentional Community Building: Blackness in Lesbian Musical Culture
Based on reflections from a cultural worker/performer at the Michigan Womyn's Music Festival, this talk address the commitment to building an intentional community rooted in a lesbian feminist musical and artistic ethos.
This talk provides a glimpse into spaces where lesbians of color negotiate questions about autonomy, coalition work, and intentional community building which inform our notions of civil society, citizenship, and social justice. This talk explores these themes by looking specifically at the evolution of the festival's theme song, "Amazon"